Hive Stands
Our end to end, high performance, ruggedized beekeeping platform includes hive stands for healthy beekeepers and palletised beekeeping
The HiveIQ System is purpose designed for migratory beekeeping and pollination.

2 Hive Stand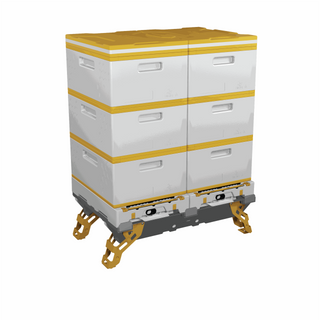 The HiveIQ 2 Beehive Stand provides hobbyist with all of the features and functionality provided in the commercial hive pallet system, holding two beehives per stand. 
It includes all the features of the professional range including the pollen collector chute and receptacle, fold out legs to raise the beehive height to a comfortable working height.

Raised hive height

The use of folding legs on the HiveIQ beehive pallet and beehive stand raises hive height to a comfortable working height, minimising repetitive bending, reducing fatigue and injury to the beekeeper. 
4 Hive Stand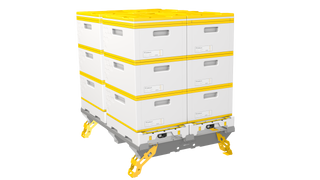 For professional beekeeping
Optimised for transport to fit on a standard truck - Hives fit 2 wide on the pallet and three pallets wide on a standard truck. They are designed for all types of fork lifts, bobcats or mini loaders.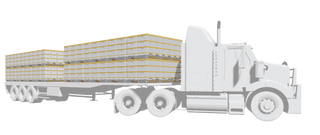 Our palletized system, combined with Light Weight EPS hives is significantly lighter than other systems saving considerable cargo weight (reduced fuel consumption or greater hive volumes per trip). 
High Strength Protection with pressed metal cover protects against damage from multi-level stacking on the truck, and pressure from heavy duty straps and winches. 

The interlocking design of the HiveIQ beehive and hive bodies ensures the integrity of a complete HiveIQ pallet (load stays secure).