for healthy bees
introducing
Beekeeping Modernized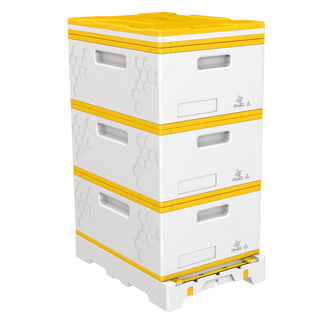 Traditional Langstroth timber hives have remained virtually unchanged since they were first patented in 1852. While these beehives have served beekeepers well for over a 170 years, it's time to bring beekeeping into the 21st century.
With over 6.5x higher insulation properties,
it's no wonder our customers enjoy up to 30% more honey production, vastly improved colony health and an expansive and robust beehive platform. Designed for all beekeepers, from the backyard hobbyist to the large-scale professional operations - our ruggedised and feature rich beehives include 360 protective edges, NFC integration and our in-house designed 3-stage entrance reducer; standard with every beehive.
We're delighted to offer you a limited time offer on our beehives to help you get started.
Our modernised beekeeping solutions offer a range of benefits that traditional timber hives simply can't match. Our innovative materials and designs are better equipped to withstand the harshest of climates, keeping your bees safe and healthy year-round. Our hives are also more efficient, making it easier for you to manage your colonies and harvest honey. And with a focus on sustainability and eco-friendliness, our products are the perfect choice for conscientious beekeepers.

So if you're ready to take your beekeeping to the next level, browse our selection of beehives for sale today. Our modernised beekeeping solutions are the perfect choice for beekeepers who want to combine tradition with innovation.
Improve your colony health and invest in HiveiQ today