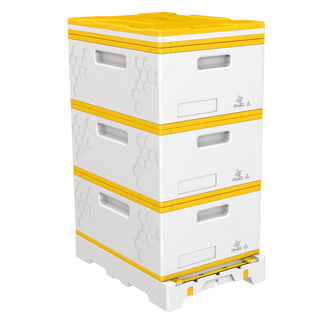 Thermally superior for healthier bees
Our beehives provide superior insulation and temperature regulation, creating an ideal environment for bees to flourish, while also contributing to the overall health and well-being of the colony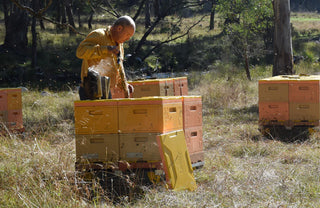 Optimised for the professional beekeeper
Ergonomic and lightweight, our beehives are constructed with high density Expanded Polystyrene (EPS) for high fusion strength, high quality and precision finish, our beehives are designed for usability and long life.
Manage your beehives anywhere, anytime
The HiveiQ software is an enterprise platform for beekeepers, whether you're just getting started, a keen hobbyist, a small business or a large commercial beekeeper.
Rugged and rough Beehive Top
Ultra-high density: With triple the life of traditional timber beehives, our high-density polystyrene beehives will best the Australian outback.
Shipped flat-packed with easy setup: Our easy to follow instructions allow anyone to assemble their beehive with no hassle.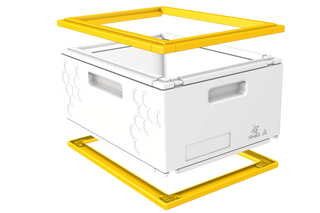 360 protective edge
Hive tool proof: The 360 protective edge enables the hive tool to be inserted anywhere around the hive body without damaging the beehive. 

Pest protection The 360-degree edge prevents pests such as ants and wax moth entering the space between boxes.
Feature rich Beehive Base
Foundation of the HiveIQ Beehive: The beehive base redesigned from the ground up, featuring our new entrance system, pollen collector and NFC integration.
Optimised for palletised beekeeping: Excels with our 2 hive stand for backyard beekeepers or 4 hive pallet for commercial operations.
3 stage entrance
The 3 stage beehive entrance can be configured to: optimise colony security; enhance in and out traffic.

The entrance provides a flat floor, enabling fast and efficient removal of debris such as dead bees, chalk brood and pests.
What's in the box
3 x 9 Frame Full Depth Beehive Body 
1 x 9 Frame Beehive Bottom
2 x NFC Tags
1 x Stamped Floor Vent
1 x Hive Entrance
1 x Blanking Plate
1 x 9 Frame Beehive Top
1 x 9 Frame Beehive Top Cover
1 x 9 Frame Metal Queen Excluder
This kit is supplied flat packed (unassembled) and requires painting